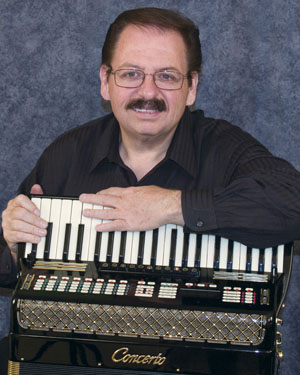 Hi everybody, I'm Paul Pasquali, the man responsible for the creation of the world's first true digital accordion using optical sensors to effect sampled wave forms (
Concerto DA-300
).
Accordions International was formed after my departure from Colombo & Sons Accordion Corp. in 1992. After seeing the disappearance of Elka (the leader in the electronic accordion field) and having greater aspirations than what's been offered by those making accordion midi kits was more than I could bear, especially by one who has had accordions running through his veins since childhood. After having taught and played the accordion professionally and having dealt with some of the world's best known accordion players, I made a decision to sell my shares of Colombo and Sons Accordion Corp. in 1992, of which I was a partner, to found Accordions International — a company actively involved in bringing the state of the art to the accordion with fresh and creative innovations for the musician.
Many years of intense research and development (with a staff of engineers, software designers and musicians) gave birth to the Concerto, now in its 3rd generation, the only electronic accordion available today that meets the challenges of state-of-the-art technology in a very friendly, easy to use instrument.
The
Concerto DA-300
offers many new innovative features previously only reserved for professional or semi-professional keyboards, others even too advanced for keyboards! Judge for yourself: Phantom, the ability to seamlessly play a second (phantom) keyboard at the touch of a foot switch; Chord Arpeggio, which inverts the harmony of the left hand chord buttons each time a chord button is played; Bass Range/Chord Range, which free the fixed positions or ranges of the accordion's left hand; Dynamic Digital Below/Pedal Expression, which instantly transmits on any or all sections (MIDI channels), eliminating once and for all the cumbersome use of multiple volume pedal assemblies so often associated with MIDI accordions, therefore greatly improving the overall expression and sound of the instrument. Not to mention, of course, the ability of adding the exclusive sound of the accordion's reeds to the electronic sounds just by pulling the bellows - a feature that no electronic keyboard will ever have!
The research and development of the Concerto took place in Salt Lake City (Utah) and the electronics are manufactured in the USA. The acoustic accordion is a fine, hand-crafted instrument built to my specifications by one of the best Italian accordion manufacturers deep in the heart of traditional accordion country (Castelfidardo) in Italy.
Accordions International also manufactures a high quality microphone (Mic-7 - the most advanced and natural sounding accordion pick up available), and imports several traditional accordion models and related items for distribution throughout the USA.
Friends and Accordion Enthusiasts, I invite you to browse through the Accordions International site to see for yourself what I believe to be the best accordion in the world, far superior to anything on the market today and for a long time to come.
Thanks for your interest and happy browsing.
Paul Pasquali
Accordions International